Streetwear is a tricky thing to define at the best of times. It has existed on the fringes of the fashion industry for decades, associated variously with skateboarding, hip-hop, graffiti and other urban subcultures, but it couldn't really be said to belong to any one of them. Depending on who you ask, it is supposed to have originated in Los Angeles, New York, Tokyo or London, but its global appeal suggests that it doesn't belong to a certain place, either. In truth, streetwear is more of an attitude or an ethos than it is a category, something defined not so much by the clothes, but by the self-taught, entrepreneurial spirit in which they were made.
It was, for a long time, a sort of antithesis to high fashion: an open marketplace of small, independent brands where trends were decided in real time, by the masses, and not six months ahead. However, about 10 years ago, things started to change. As the popularity of streetwear soared, established fashion brands began to see it as a way of speaking to a younger audience. At the same time, streetwear designers capitalised on their growing cultural influence by making inroads into the luxury market.
The result is that streetwear is now more diverse, and speaks to a larger audience, but is harder to put a finger on than ever before. Along with old-school classics such as Stüssy, Stone Island and Carhartt WIP, there are now designers including Off-White, AMIRI and Fear of God bridging the gap between luxury and streetwear, along with plenty of new brands, big and small, who are redefining streetwear on their own terms. Here's a snapshot of where it's at right now.
The Carhartt WIP worker jacket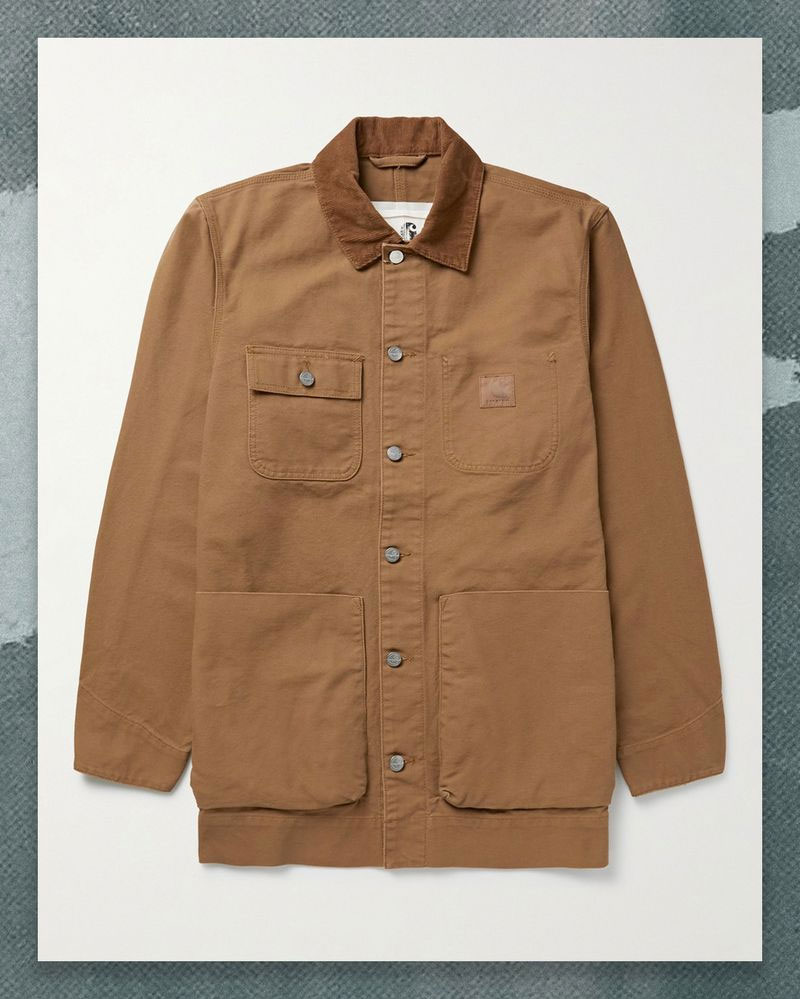 Carhartt's WIP line – the letters stand for "Work In Progress" – started adapting the brand's workwear classics in the mid-1990s and has been a streetwear staple pretty much ever since. For its latest collaboration, it welcomed the London interiors and fashion brand Toogood to re-cut a few of its most popular silhouettes. Our highlight? This Michigan chore jacket, which has been adapted with the oversized fit and big patch pockets of Toogood's Photographer coat.
The Stone Island logo sweater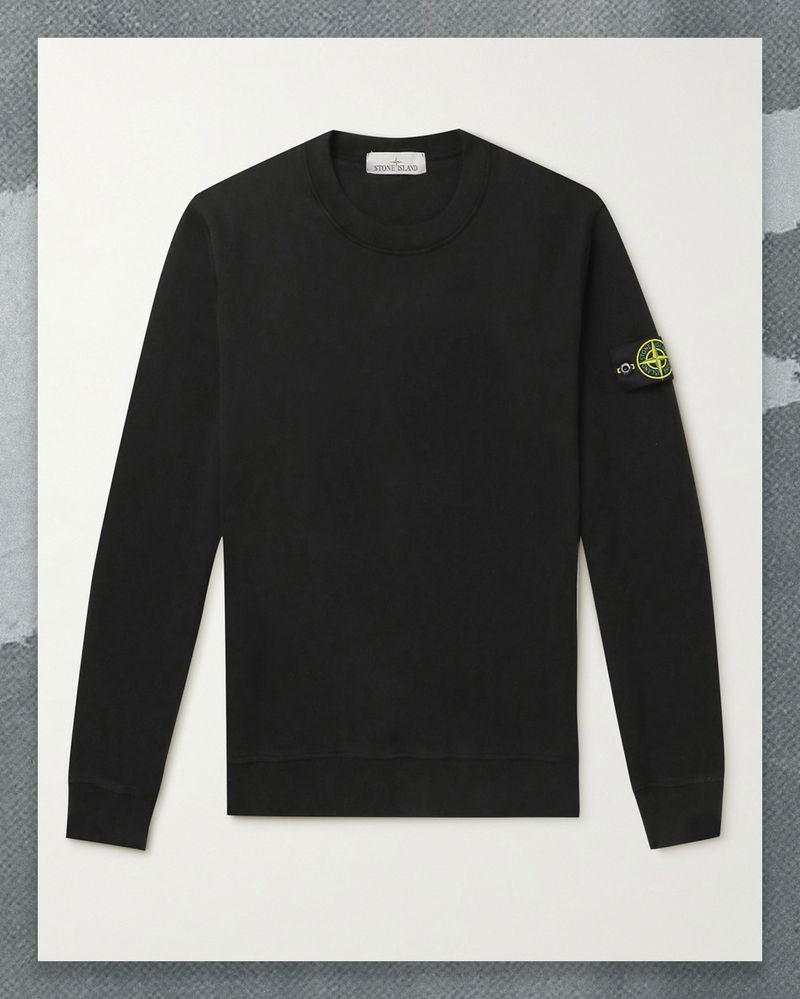 No discussion on streetwear is complete without mentioning Stone Island. Its logo patch is one of the scene's most recognisable symbols and encompasses decades of cultural history, from the football terraces of 1980s Italy to contemporary hip-hop. There are few easier and more accessible ways of showing your allegiance to Team Stoney than with this simple black sweatshirt, a wardrobe staple turned bona-fide streetwear classic.
The Off-White varsity jacket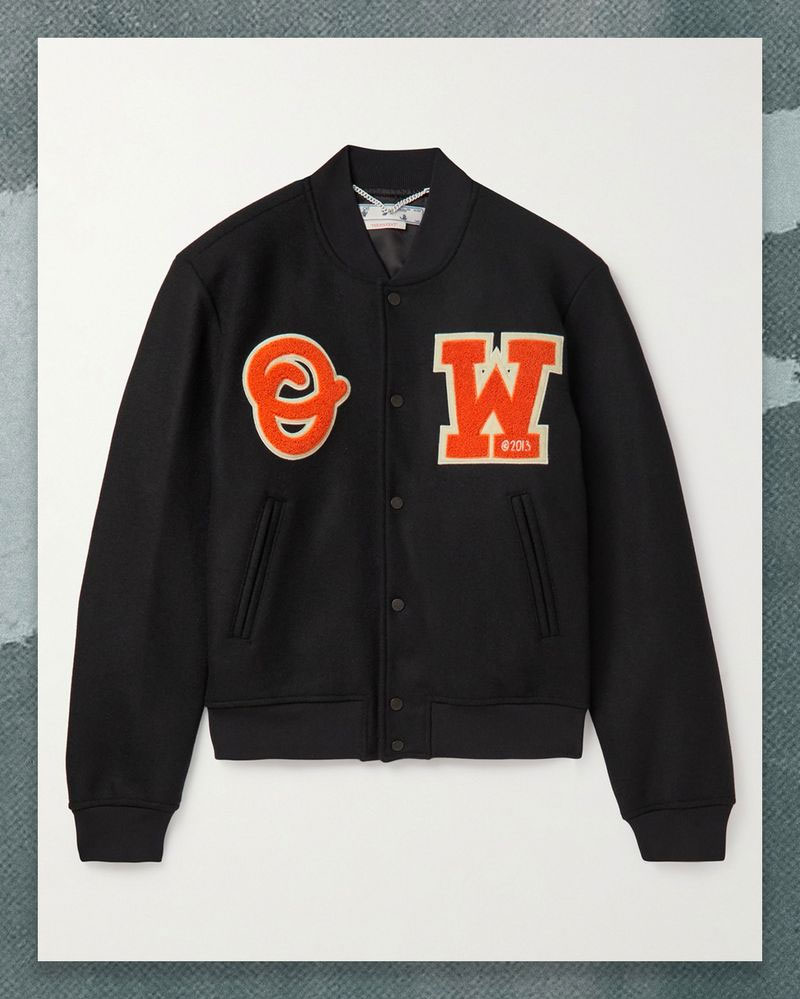 With Off-White, the late Mr Virgil Abloh didn't so much blur the lines between streetwear and high fashion as erase them altogether. This varsity jacket, adorned with the initials OW and the brand's founding year of 2013, overtly references the collegiate style that was such a feature of the streetwear scene in the mid to late 2000s – think Messrs Kanye West, Pharrell Williams and Jay-Z – but boasts the luxurious fabrication you'd expect of designer fashion.
The AMIRI bandana shorts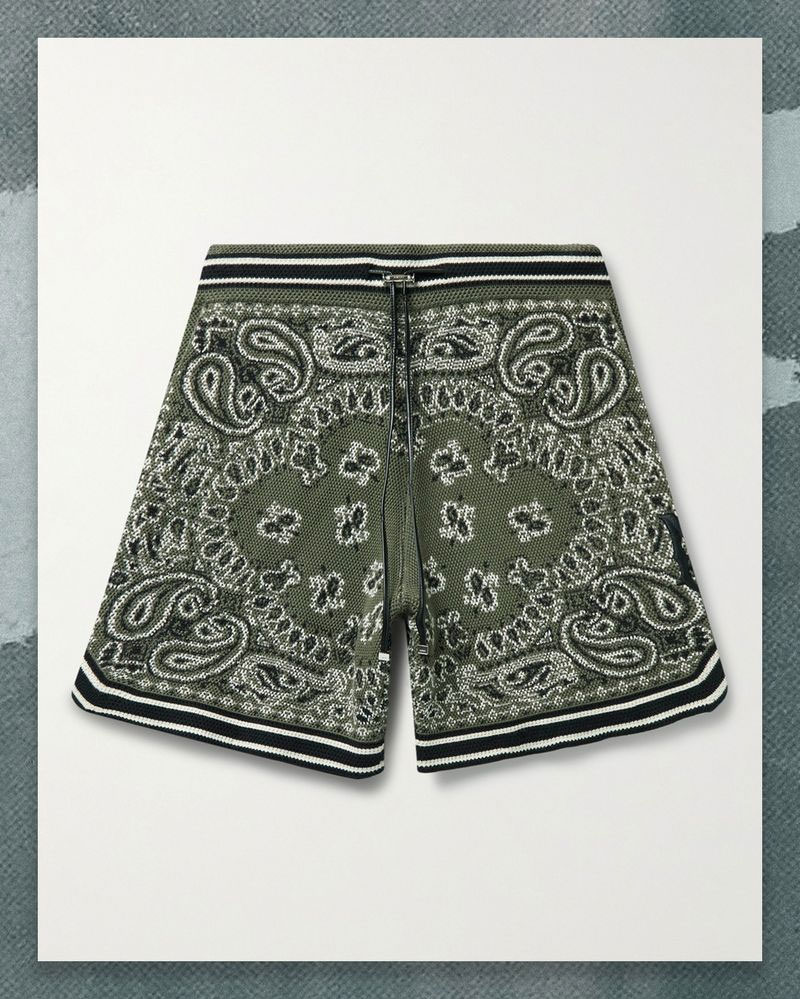 Another designer intent on bringing together the historically divergent worlds of street culture and high fashion is Mr Mike Amiri, whose namesake brand is heavily influenced by the musical and cultural heritage of his native Los Angeles. There's some seriously impressive craftsmanship on show with these shorts, which are crocheted from a luxurious blend of cotton and cashmere. Meanwhile, the bandana print – a recurring motif for AMIRI – is straight from the street.
The big statement Acne Studios trousers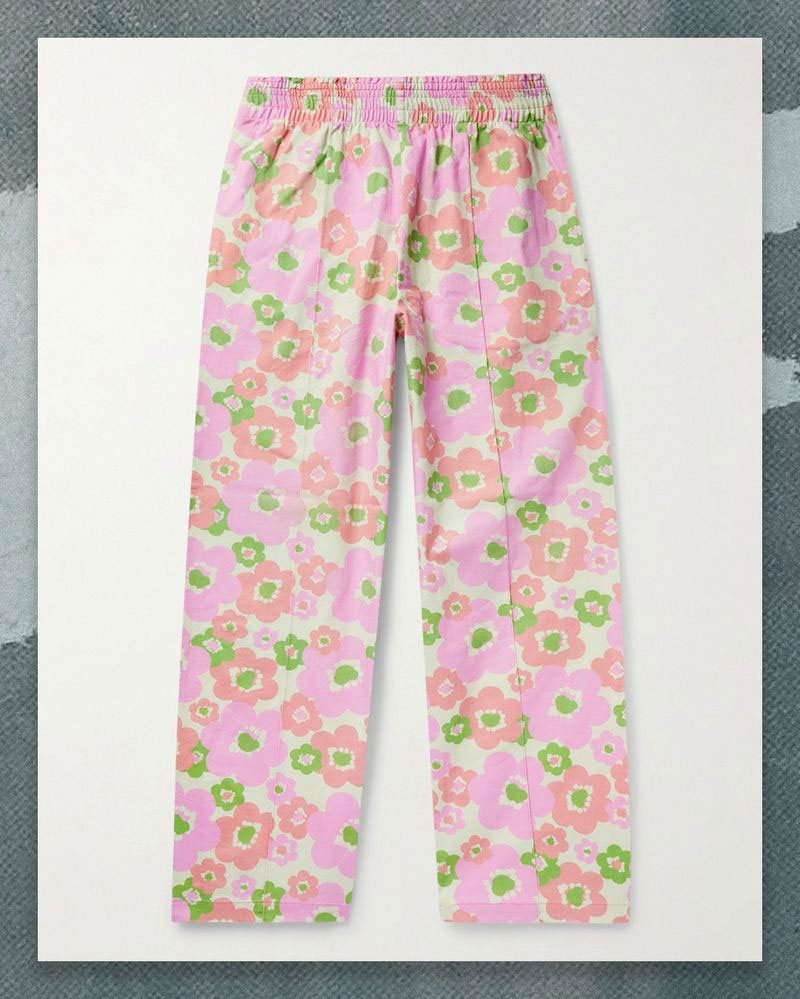 Sure, it might not be your typical streetwear label, but Acne Studios nails the scene's vibrant, youthful aesthetic with these floral trousers. Cut wide in the leg and decorated with an eye-popping pink, white and green print that's giving us strong 1970s bathroom wallpaper vibes, these are ready-made for the Third Summer of Love. Pair them with a long-sleeved T-shirt from the skate-inspired streetwear brand PARADISE and top it off with a cross-body bag for an instant festival look.
The KAPITAL aloha shirt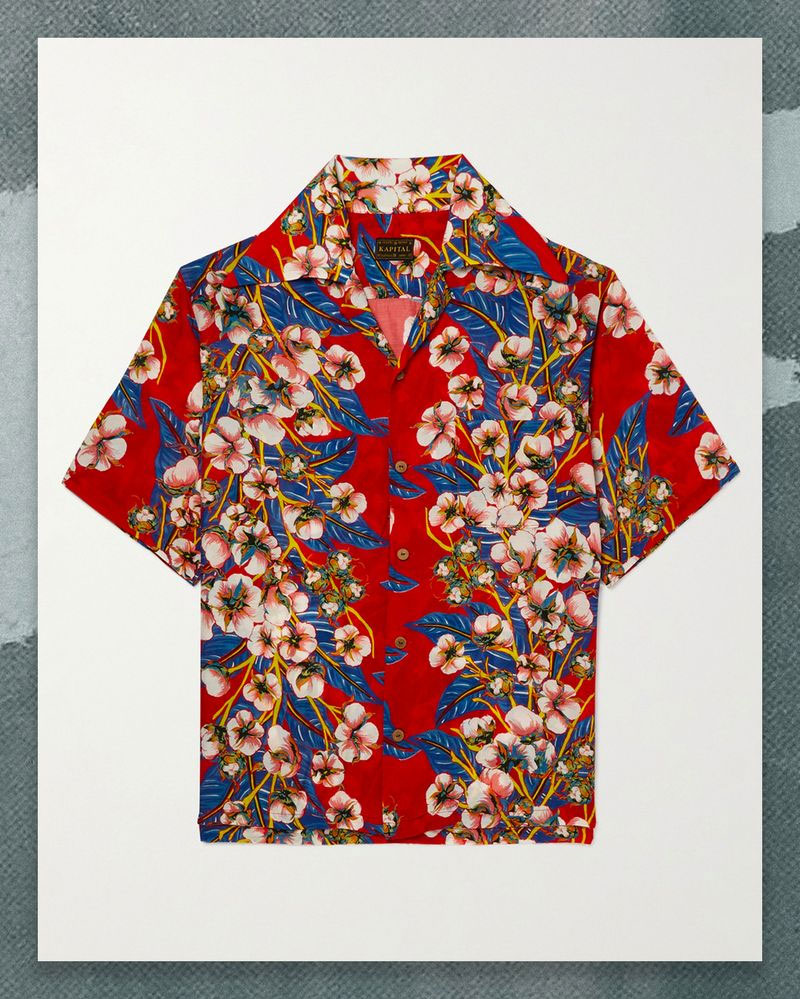 One of the leading lights of the Japanese streetwear scene, KAPITAL brings a strong mid-century American influence to its eclectic and colourful collections. Here is its take on the aloha shirt, a garment that was made famous by Mr Elvis Presley in 1961's Blue Hawaii, but which owes its modern cultural relevance to Mr Leonardo DiCaprio, who provided us with one of the defining moments of 1990s style when he wore one in Mr Baz Luhrmann's Romeo + Juliet.
The Rhude designer sweats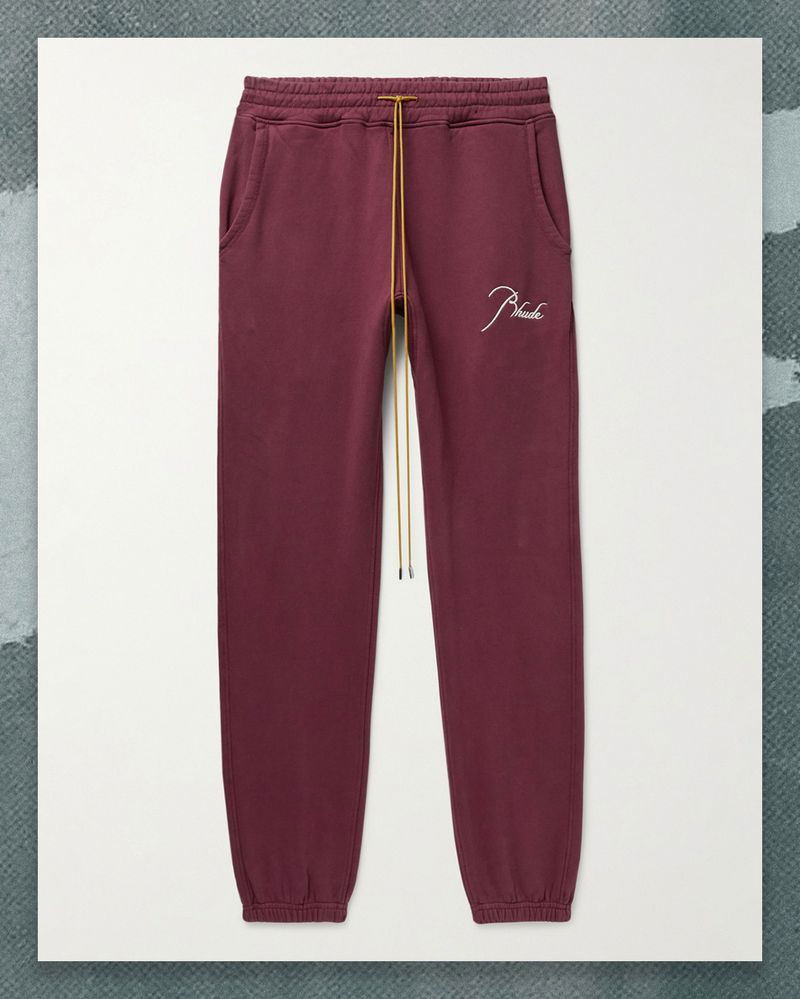 Speaking to MR PORTER back in 2019, Mr Rhuigi Villaseñor of Los Angeles streetwear label Rhude revealed that the secret to his success is his ability to "code switch". In other words, he's just as comfortable talking business with men in suits as he is hanging with the cool kids. It's a quality that comes through in his clothes, too; these logo-embellished burgundy sweatpants would look just as good on a business-class flight as they would with a logo T-shirt and sneakers.
The POLITE WORLDWIDE® logo hoodie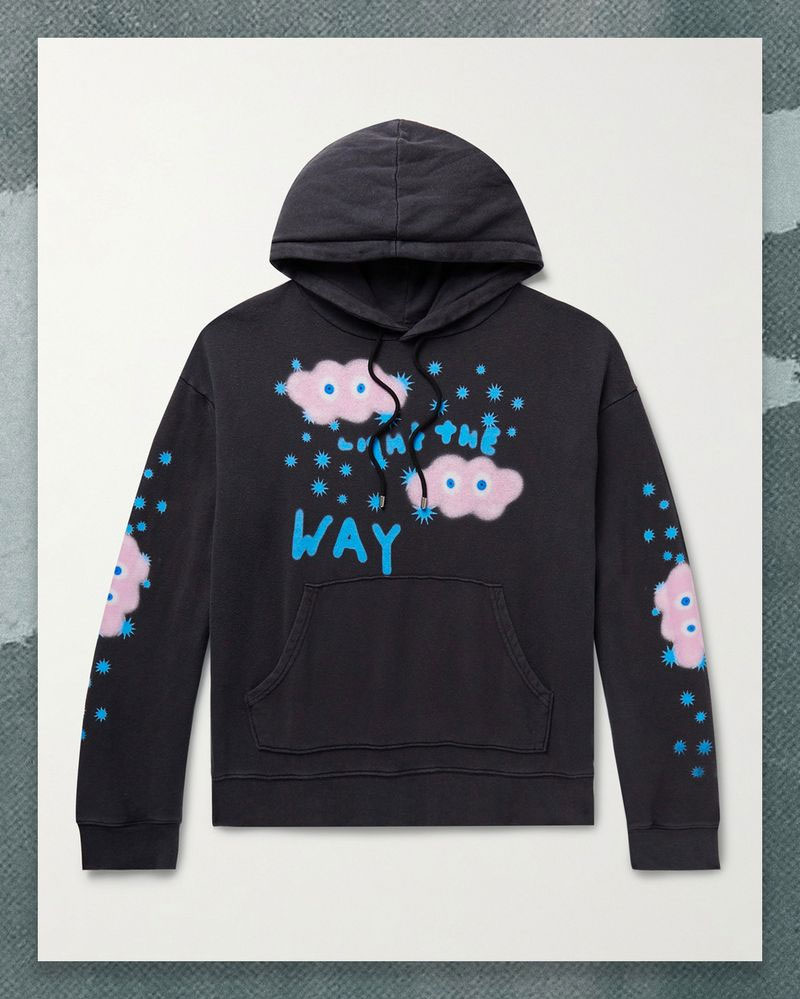 The public perception of hoodies has come a long way over the past few years, as our contributor Mr Derek Guy of Die, Workwear! pointed out in The Journal last week. But while they've been embraced by brands as distant from the streetwear scene as Brunello Cucinelli and TOM FORD, they are still very much a staple of the urban style diet. This one from small Los Angeles brand POLITE WORLDWIDE® is a great example – and it's part of our exclusive Tee Store collection, too.