Simply put, Palm Angels is one of contemporary fashion's most critically acclaimed and commercially successful labels around, especially in the emerging scene. In the 6 or so years of its existence as a dedicated clothing brand, Palm Angels has evolved from being a simple skate-culture capsule to a mainstay of fully-fledged seasonal collections, garnering an almost cult-like level of popularity along the way.
Palm Angels White Imprint Classic Print T-Shirt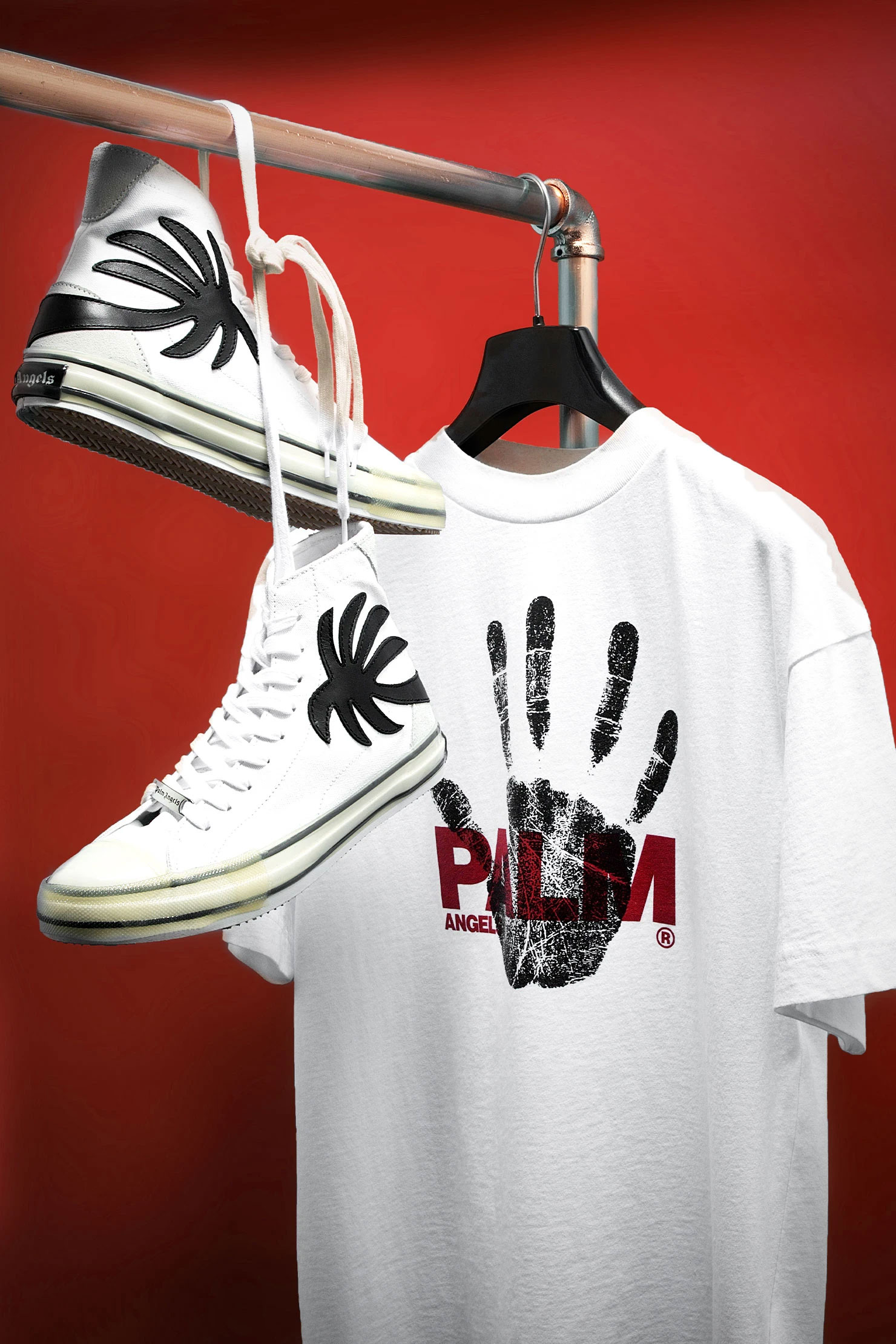 The new 'imprint' graphic explores the word 'Palm' as a homonym with a literal image of the palm of a hand, as opposed to the palm tree that we're familiar with. It's a clever subversion of expectations that's also symbolic of Palm Angels leaving its unique imprint on the fashion industry. It's this kind of light-hearted experimentation with thematic imagery that fans of the label have come to love and appreciate and why this Palm Angels White Imprint Classic Print T-Shirt makes our list. This easy-going style will feel right at home as the focal point of any casual, weekend get-up.
Palm Angels Black Broken Logo Windbreaker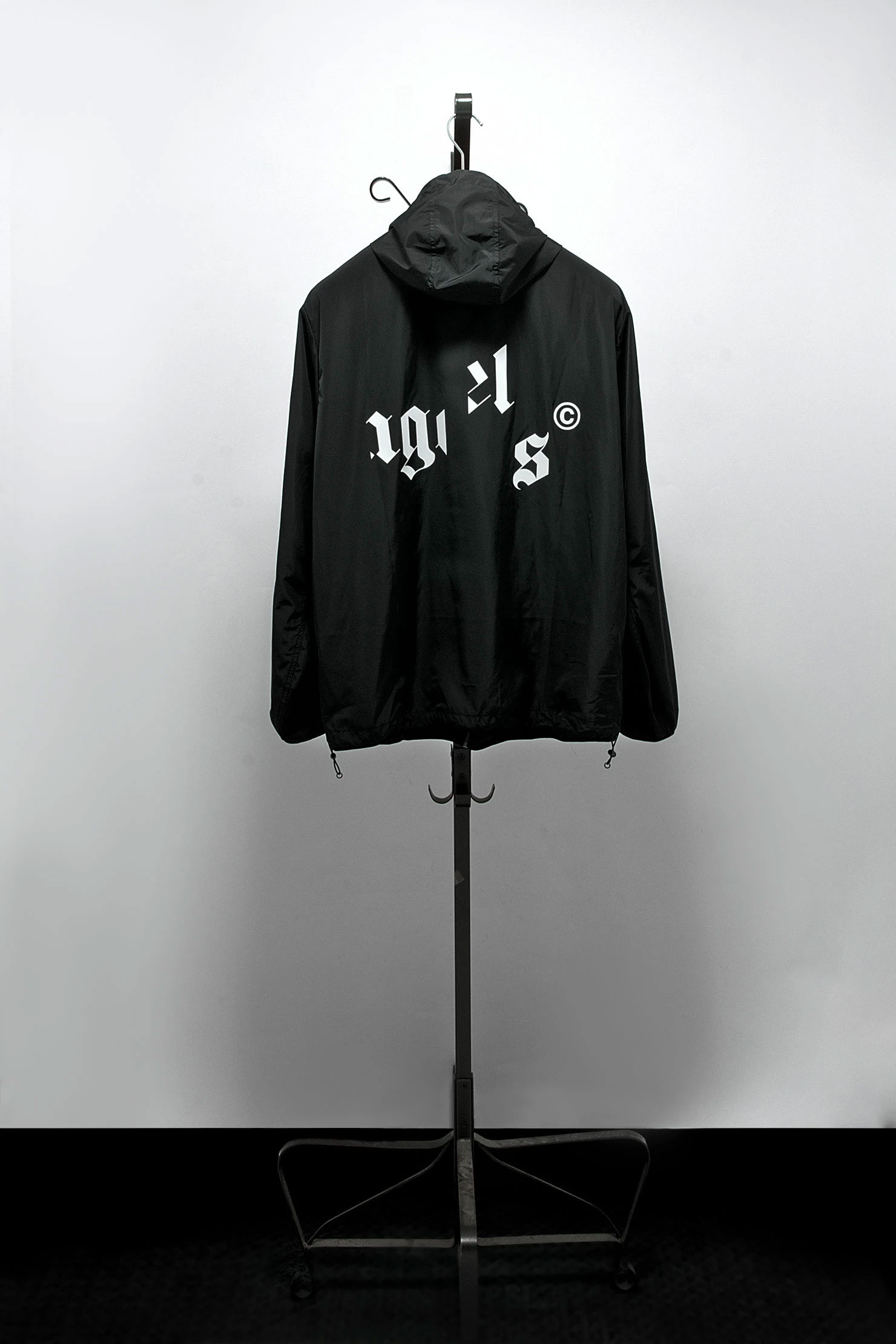 We're all familiar with the adage: "if it ain't broke, don't fix it". Well, the brand new 'broken logo' print is Francesco Ragazzi's way of arguing that sometimes, we don't need to fix it even if it is broken. The new design, which is displayed here on our featured Palm Angels Black Broken Logo Windbreaker, is a deconstructed rendition of the iconic gothic Palm Angels logo, one that maintains a welcoming sense of familiarity, despite its relative obscurity. It's a shining testament to the strength of Palm Angels' overall brand recognition (a considerable achievement considering the label was only established as late as 2015) that they can essentially 'break' the logo without affecting its legibility. Pair yours with the Palm Angels Black Broken Logo Chinos to complete the intended look and for an appropriate outfit ensemble for the transitional season.
Palm Angels Red Bear Embroidery Sweatshirt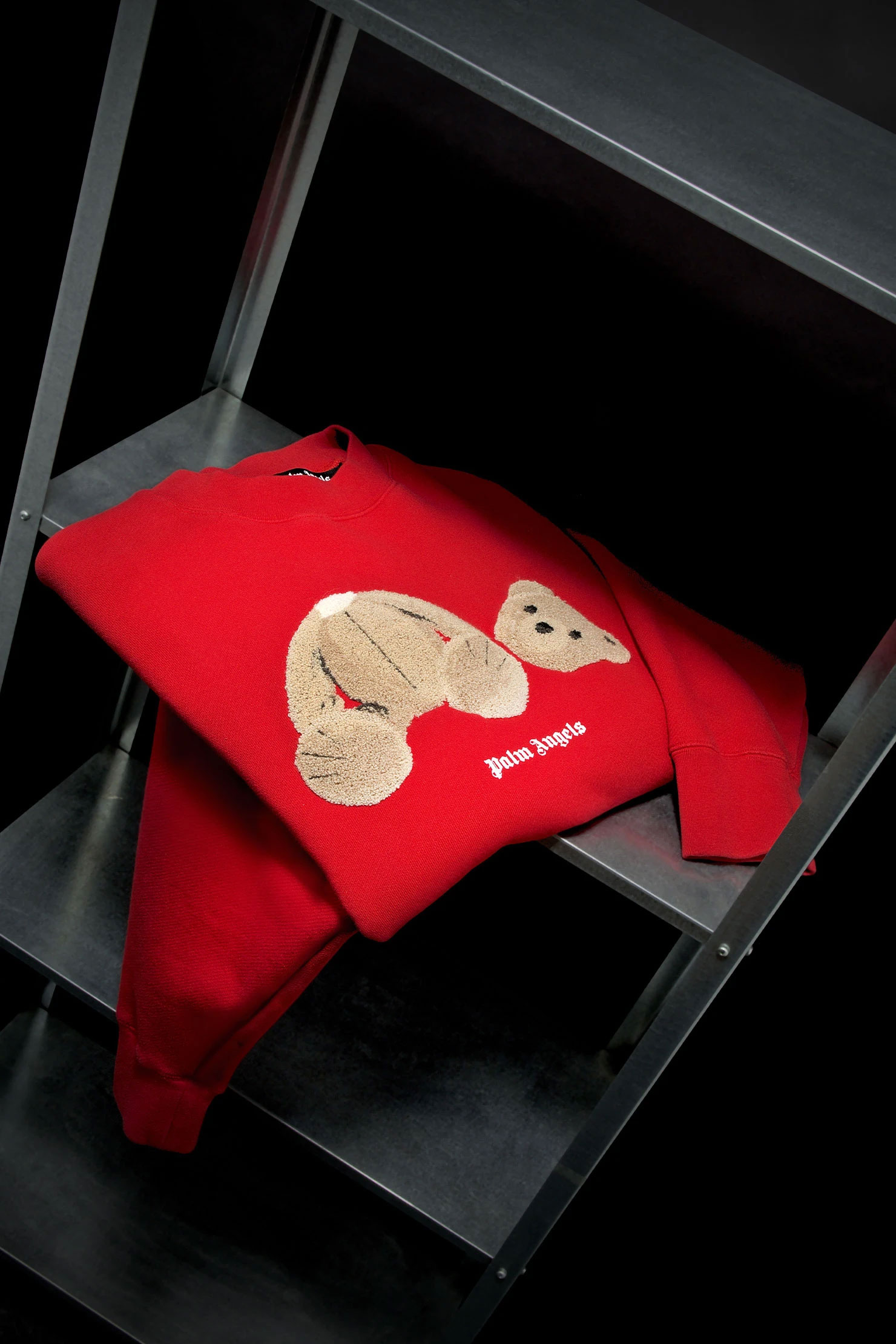 Initially conceived in collaboration with graphic artist Javier Jaen for their Pre AW19 showcase, the Palm Angels bear has become the unofficial mascot of the label. The sardonic irony of a cute, innocent teddy bear that's had its head brutally ripped off is one that clearly resonated with the creatives at the label. In truth, we think it speaks to the duality of Palm Angels' preppy American soul and sharply contrasting rough street-style aesthetic. We'd be remiss to exclude such a brand-defining icon from a list that claims to be a 'best of' compilation and as such, we've opted to highlight this Palm Angels Red Bear Embroidery Sweatshirt for its striking colour palette; which is ideal for combating the lockdown blues and ushering in a new era of sunshine and good times once things (hopefully) start returning to normal.
Palm Angels x Smiley Black Burning Head Logo T-Shirt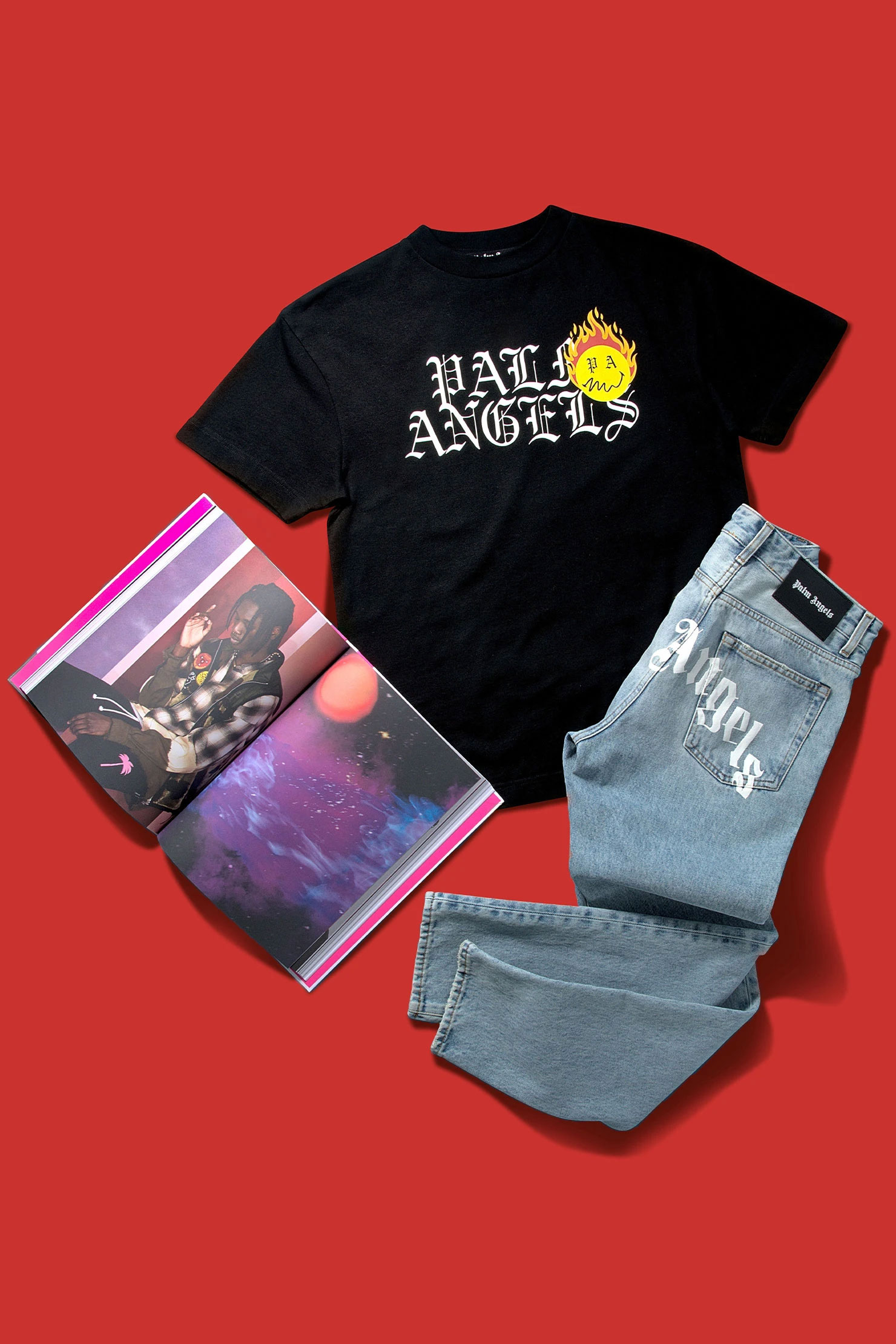 The collaboration between Palm Angels and the London-based Smiley® company is one of the collection's leading graphical themes, one which playfully reinterprets the classic Palm Angels smile from the label's very first collection. The bold, flaming head Smiley, is a design that's very much in keeping with the brief for Palm Angels' Pre SS21 collection, a celebration of the designer's most beloved themes from seasons gone by. However, rather than simply rehashing an older design and relying solely on nostalgic appeal, Francesco Ragazzi has specifically enlisted the expertise of a brand that can enhance and elevate this particular graphic to the next level. The Palm Angels x Smiley Black Burning Head Logo T-Shirt is easily one of our favourite pieces from the collection as it promises heaps of potential for creating some really punchy off-duty looks.
Palm Angels Black Daisy Logo Trucker Hat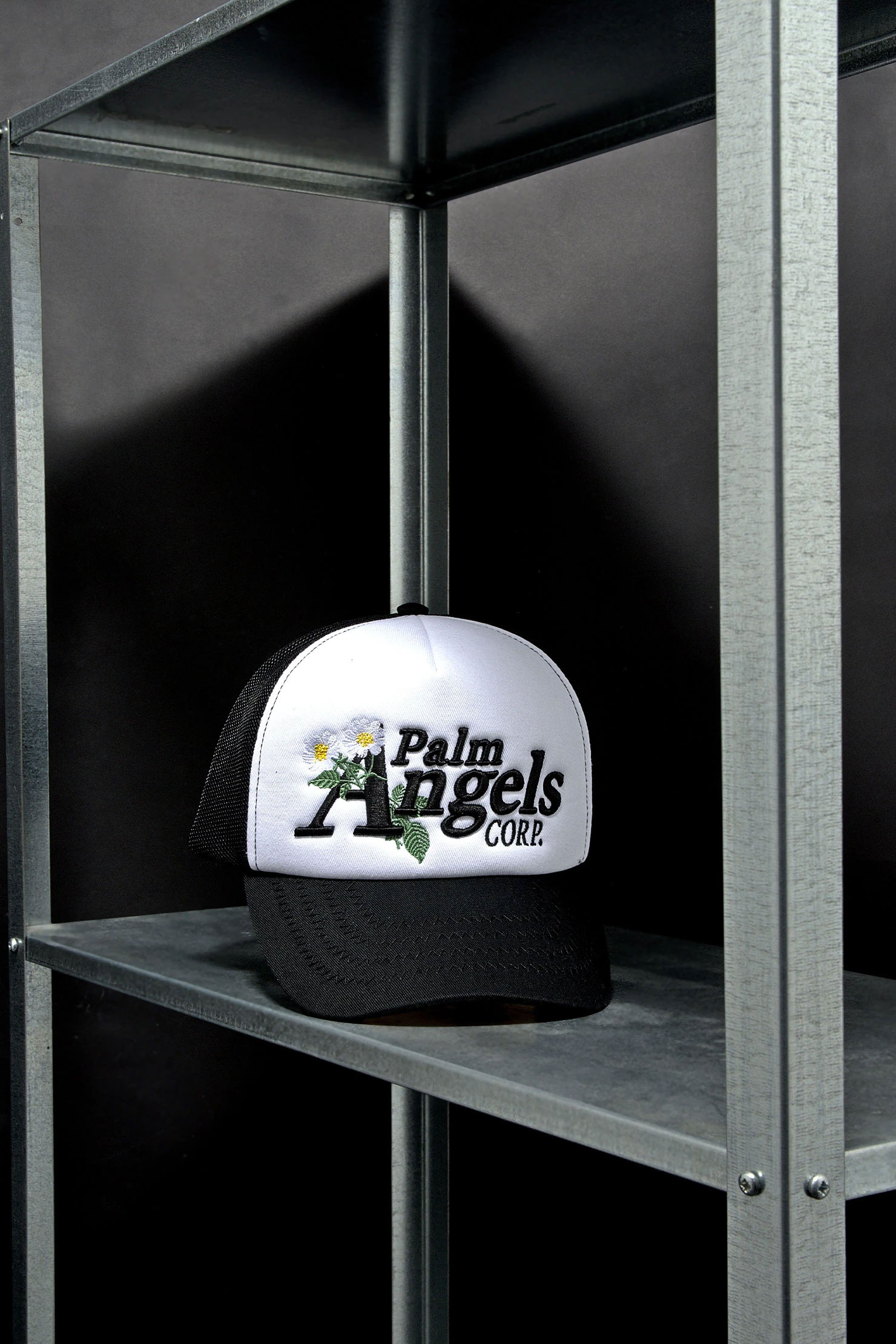 Another debuting design for Palm Angels' SS21 presentation, the 'daisy logo' graphic mixes humble typography with a simple, yet elegant floral motif. The blooming daisies remind us so fondly of the approaching spring and the accompanying promise of happier and sunnier days ahead. In keeping with the spring-centric angle of this conversation, it's fitting that the graphic should appear on our featured Palm Angels Black Daisy Logo Trucker Hat, an article that is, by design, the perfect accessory for your spring wardrobe. The meshed rear panel allows for the easy escape of heat from your head, keeping you cool and comfortable for the duration of the longer spring days.