At the heart of Amiri's Fall 2022 collection lies the collaborative project between American artist Wes Lang and Mike Amiri himself – an exclusive capsule unveiled on the runway at Milk Studio in Los Angeles in February. It's a diverse selection of ready-to-wear styles and accessories that memorialises the long-existing relationship between two celebrated creatives, on both a professional and personal level. Both have a deep-rooted passion for all things glamour and rock and roll, particularly with regard to the culture they've helped to influence within the city of their birth throughout the decades.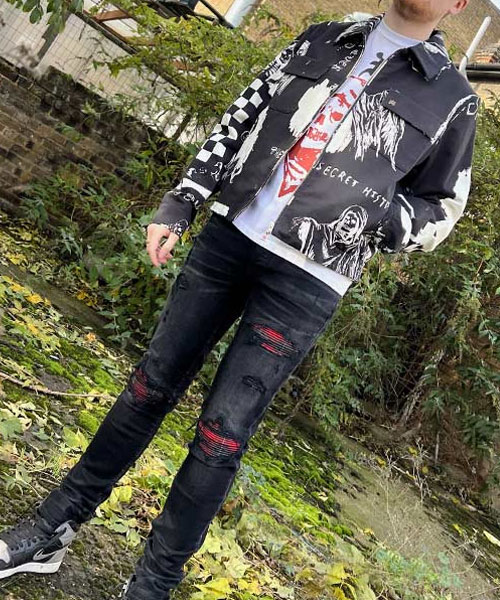 Mike's eponymous label is built on and around nostalgia for LA's infamous rock and roll scene, especially at its height during the 70s and 80s, while Lang's work explores the darker, more controversial elements of America's past and present. Irrespective of their personal artistic influences, Amiri and Lang have a deep respect and admiration for one another's work, with Lang's artwork actually featuring in each of Amiri's four stores. And while Lang confesses that he's generally quite guarded with the work he does and generally likes to keep a low profile (his artistic contribution to Kanye West's Yeezus tour merchandise remains one of his only high-profile collaborations to date), he's been very open about how excited he was to design a clothing collection with his best bud Mike.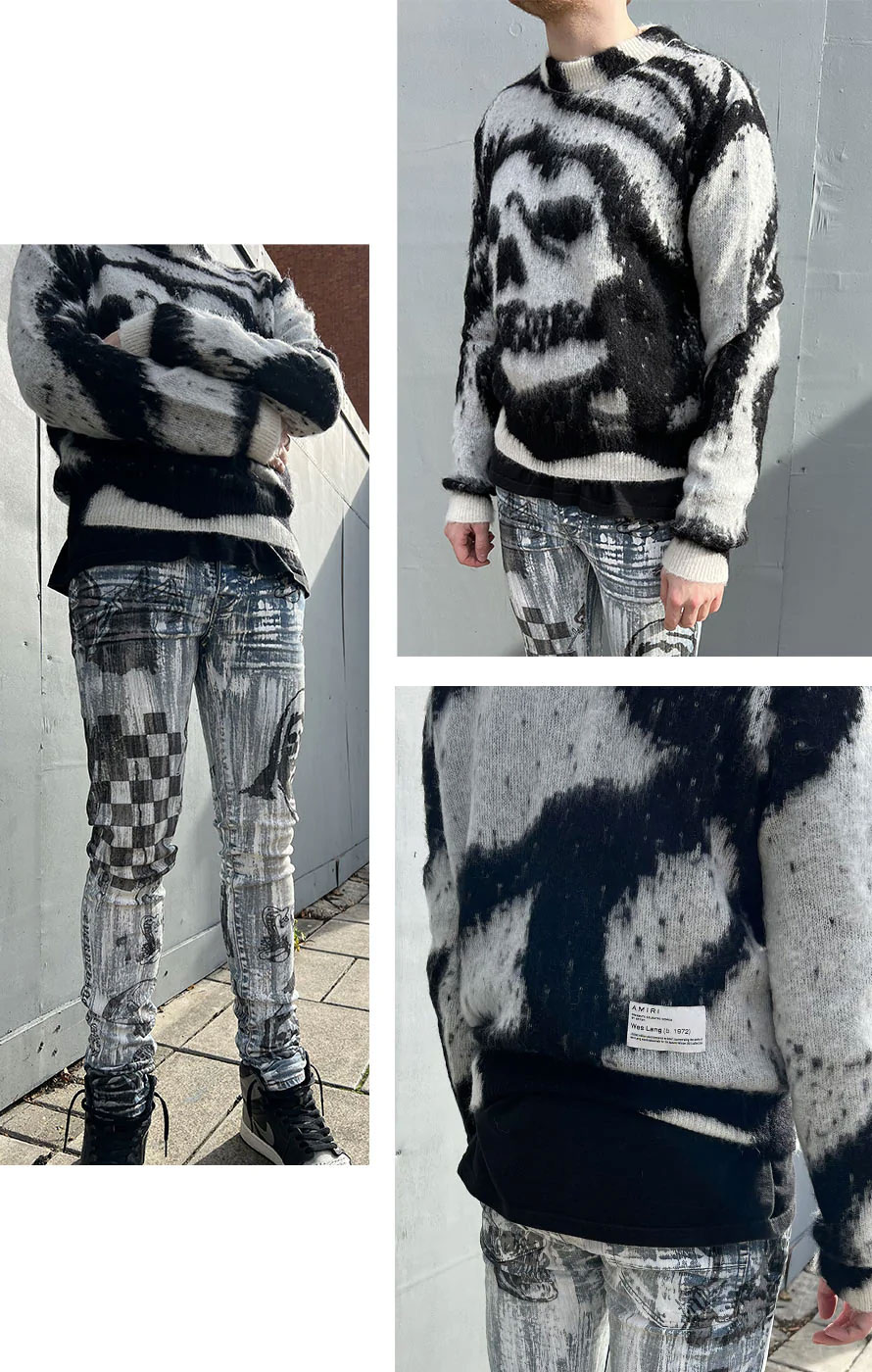 What's so unique and refreshing about this collection is how it honours not only Lang's art but also his process and his own personal sense of style. It's so much more than simply screen-printing art onto clothes. The pieces themselves are very intentionally designed with Lang at the centre of the creative process and ideation. The collection is full of multifaceted designs that carefully layer in quintessential facets of Lang's art, like the Wes Lang Blue Sketch Jeans that emulate Lang's signature painting outfits with a paint-stained overlayer that covers much of the denim base. There's a real dimensionality that pervades the collection and elevates it far beyond what it might have been if Mike wasn't so determined to take it as seriously as he has done. These themes of layering and dimensionality not only pay homage to Lang's artwork but also align amazingly well with Amiri's own process, with dense embroidery, distressing and over-finishing being common tropes of the designer's archetypal aesthetic. Wes Lang's signature iconography, a pantheon of skulls, bats and graphic depictions of the grim reaper, helps to paint a unique and deliberately unsettling picture of California when the sun goes down and zeroes in on the artist's fascination with cultural taboos and the darker side of human nature.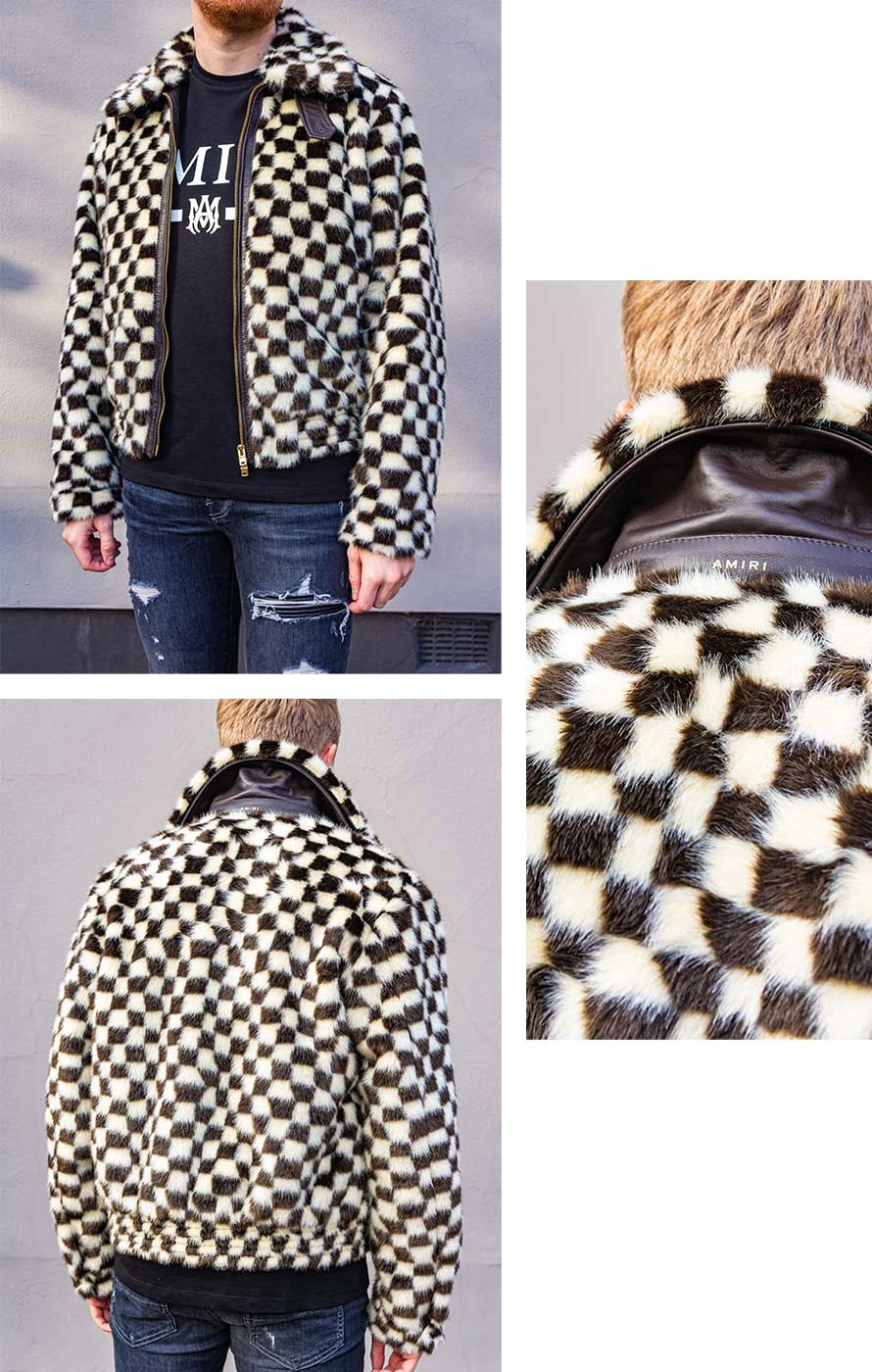 The collaboration is supported by a book from Rizzoli, New York, simply titled AMIRI Wes Lang. It's a fascinating chronicling of the team-up between the two co-collaborators with everything from initial behind-the-scene conversations to conceptual sketches and backstage photos all explored in impressive depth and detail.